Architecture should be designed in the way that the users is the ones that are under consideration in the process. It has to be an enhancement, at least not the opposite, for everyone it will affect. When designing something new, there are so many factors that needs to be considered. The surroundings, the culture and the history is of great importance. To create something that has no relation to the city or to the inhabitants, will appear confusing and establish negative perceptions.
The Modern Movement is thinking of "history" as a curse word, and that everything from the past and the pre-existing should be forgotten. If everything was designed according to this way of thinking, there would be architecture with no identity, and the city would not have any continuity. This would again affect our society and the way of living. Buildings would no longer be the glue that connects the city. The communities as we know them would be shattered and cities would degenerate to zones of extravagant buildings. One wouldn't be able to distinct one city from another, the identity would be lost.
On the extreme side of this way of thinking, you find the "Starchitecture" that creates something alienated from the already existing surroundings. But, in the sense of modern architecture focusing on the buildings being functional, starchitecture cannot be considered as a continuation of the Modern Movement. The center of attraction for an starchitect is to get his/her name world-known. The buildings belonging to this "style" of architecture are buildings that can be placed wherever in the world, because they are not designed considering the surroundings or history, they have no identity
---
Parametricism
Architecture is about to take the wrong path where building design is becoming more and more about the aesthetics, shape and form. What happened to the essential elemental values like functionality, efficiency, take advantage and adapt the building into the surroundings. Big Starchitects in the present like Zaha Hadid and Frank Gehry are starting to fall into this category where the architects care more about the exaggerated shapes and facades.
Frank Gehry Dr Chau Chak Wing Building Sydney 2015
Frank Gehry, Panama Biomuseo, Panama 2014
OMA´s Taipei Performing Arts Center
Frank Gehry, Dancing House, Prague, 1996
MZ Architects, Aldar Headquarters, Al Raha Beach, Abu Dhabi United Arab Emirates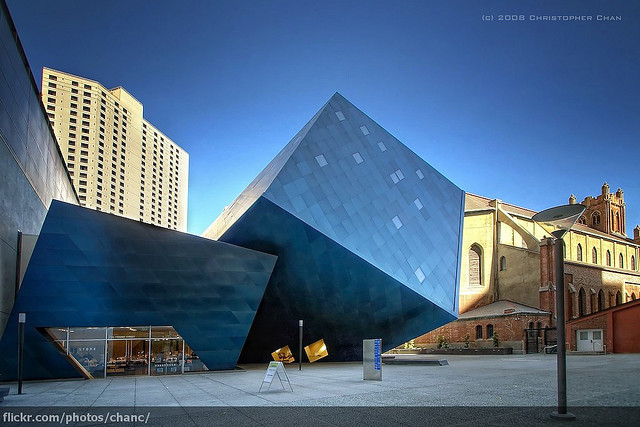 Holocaust Museum, San Francisco
The Cube, Birmingham.
Marina Bay Sands, Singapore
Definition (wikipedia)
Parametricism is a style within contemporary avant-garde architecture, promoted as a successor to post-modern architecture and modern architecture. The term was coined in 2008 by Patrik Schumacher, an architectural partner of Zaha Hadid (1950-2016). Parametricism has its origin in parametric design, which is based on the constraints in a parametric equation. Parametricism relies on programs, algorithms, and computers to manipulate equations for design purposes.
---
Dame Zaha Mohammad Hadid, DBE (31 October 1950 – 31 March 2016) was an Iraqi-born British architect. She was the first woman to receive the Pritzker Architecture Prize, in 2004. She received the Stirling Prize in 2010 and 2011. In 2012, she was created a Dame Commander of the Order of the British Empire and in 2015 she became the first woman to be awarded the RIBA Gold Medal in her own right.
Hadid liberated architectural geometry with the creation of highly expressive, sweeping fluid forms of multiple perspective points and fragmented geometry that evoke the chaos and flux of modern life. A pioneer of parametricism, and an icon of neo-futurism, with a formidable personality, her acclaimed work and ground-breaking forms include the aquatic center for the London 2012 Olympics, the Broad Art Museum in the U.S., and the Guangzhou Opera House in China.
Port House
Antwerp, Belgium, 2009 – 2016
Is it a ship? A diamond? Hadid's Port House opens in Antwerp